Your New Designs
2015 Supercharged Shoreline Gold Fender Stratocaster
New Fender 60s US body with a Edge Rolled Fender Standard Stratocaster neck. The pickups are completely upgraded and the Original Version of Mix-Flex Tone Circuit wiring, including No Load Tone Pot. This Stratocaster guitar also has locking tuners. In summary, it's simply amazing. The Pickups: Quarter Pounder (Bridge), Power Lace for center, and Virtual 2.2 for Neck.
Available Qty: 1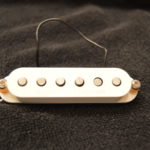 Bridge Pickup Upgrade (Single Coil)
Single Bridge Pickup upgrade - Includes pickup, No-Load Tone Pot and all wiring.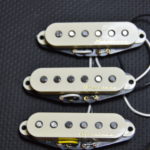 Three Pickups Upgrade (SSS Configuration)
Includes: Bridge, Middle and Neck Pickup, No Load Tone Pot and wiring. Color scheme is options (if you want to change your look).