Your New Designs
This is a shoreline gold 60's body. The body also comes in a Red, White, Black and some other cool colors. It's the perfect body for this design. So if you want this layout with a different body color I can build that for you.
2015 Supercharged Shoreline Gold Fender Stratocaster
New Fender 60s US body with a Edge Rolled Fender Standard Stratocaster neck. The pickups are completely upgraded and the Original Version of Mix-Flex Tone Circuit wiring, including No Load Tone Pot. This Stratocaster guitar also has locking tuners. In summary, it's simply amazing. The Pickups: Quarter Pounder (Bridge), Power Lace for center, and Virtual 2.2 for Neck.
Available Qty: 1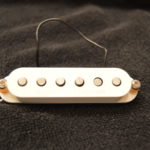 Basic Bridge Pickup Upgrade
Includes: Wiring up a single bridge pick-up (single or humbucker), setting proper height, and installing a NO-LOAD tone pot but does not include the cost of the pickup.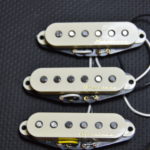 Three Pickups Upgrade (SSS Configuration)
Includes: Wiring up 3 pickups and a NO_LOAD tone pot (included). Includes setting the proper height of the pickups.