Finished Guitars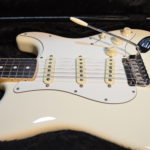 2014 NOS Limited Edition Fender USA Stratocaster Channel Bound Neck
This is a STUNNING deal. This guitar is an amazing BRAND NEW 2014 USA Limited Edition Olympic White Stratocaster with a Channel-Bound Compound Radius neck. Straight from the Fender Factory with no modifications. Fat 50's Custom Shop pickups, No Load Pot. The rosewood inlaid neck is a wonder highlight for this guitar.
2015 Supercharged Shoreline Gold Fender Stratocaster
New Fender 60s US body with a Edge Rolled Fender Standard Stratocaster neck. The pickups are completely upgraded and the Original Version of Mix-Flex Tone Circuit wiring, including No Load Tone Pot. This Stratocaster guitar also has locking tuners. In summary, it's simply amazing. The Pickups: Quarter Pounder (Bridge), Power Lace for center, and Virtual 2.2 for Neck.
Available Qty: 1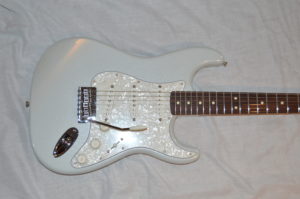 2016 New Fender White Opal Stratocaster
Brand New 2016 White Opal Stratocaster - This guitar has a wonderful White Opal color and a Rosewood Neck. It's a stock guitar which is unusual for us but it was such a great color choice that we had to carry one. The guitar has been setup well and comes with a Fender gig bag.