Goldirocks
Goldirocks is one gem of a Strat.
A beautiful color in a custom shop 50's color body combined with a rolled edge reworked Fender standard maple neck.  The addition of a specialized circuit and pickup selection, & rock solid locking tuners make this puppy one hot guitar.
Reviews: "Great work. Extremely nice axe" , "Very nice! Really beautiful guitar, man."
"Goldirocks"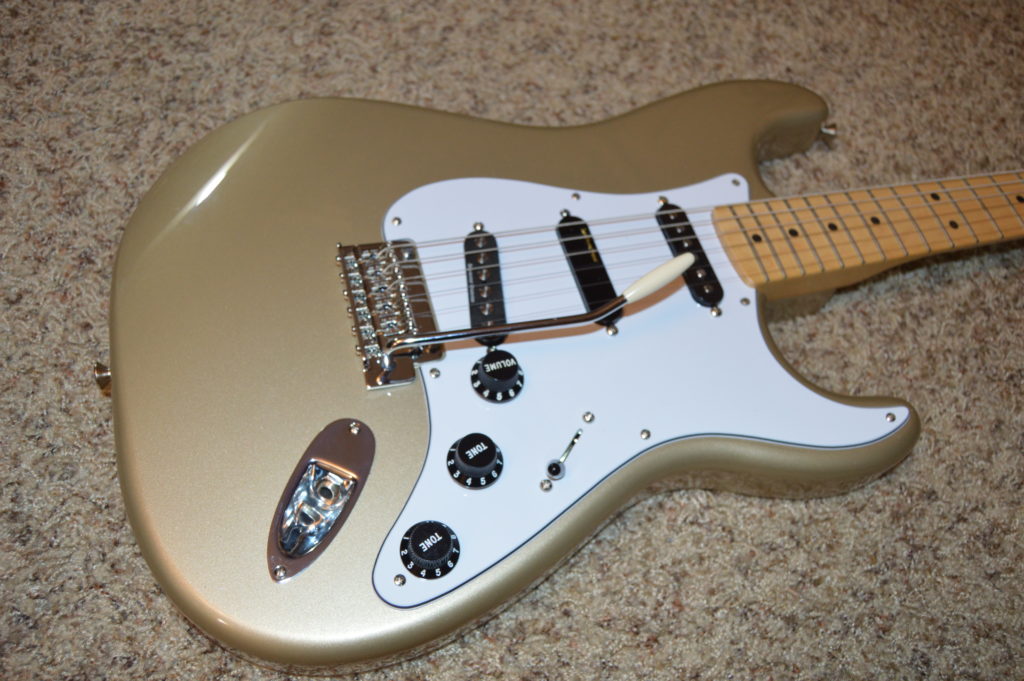 Specs:
Custom Shop 50's Body Color:   Shoreline Gold, this is a 50's body and is routed SSS
Wiring: Master Volume (300K Linear) (top), Middle (250 Linear) Blend for the middle pickup), Bottom (Master Tone with no load pot). – The circuit is a simplified version of the Mix-Flex Tone ™ circuit for 3 single coil pickups.
Pickups: Quarter Pounder (Bridge), Power Lace for center, and Virtual 2.2 for Neck. The neck plate is real from the original "body (the neck is Fender but not original match). Oh yeah, Color is Shoreline Gold and it has a 2 point bridge floating bridge
The Quarter Pounder in this guitar doesn't have a tap, the "T" version does and would be an option.  This guitar in the bridge makes for a great strong bridge tone and is very good for recording, rock music, or strong rhythmic backing. It also goes well with Distortions and Fuzzes.  It will get noiser if not careful because it's not a noiseless pickup but in normal use that's not an issue.
The Power Lace actually has a much milder tone and gives a middle of the rock general rhythmn sound but when it's mixed with the Quarter Pounder you get a decent quack.
The Virtual 2.2 gives a nice Neck tone is great for more Jazzier chording, Police style sounds, choruses, etc. It actually has a bit of top end. It is also noiseless.
Neck: Maple Fender Standard neck with rolled edges done by Stratocaster Design and Schaller Locking Tuners
Other: Stock Fender 8 hole vintage white pick guard with black accessories.
Other Notes: Other than the pickup selection, one cool thing about the electronic wiring is that the middle "tone" control is now actually a "BLEND" control for the middle pickup.  The no-load tone pot allows 100% bypassing of the tone control, and it a standard on any guitar I work on.
You can own this guitar or custom modify it on Purchase Designer Guitar page